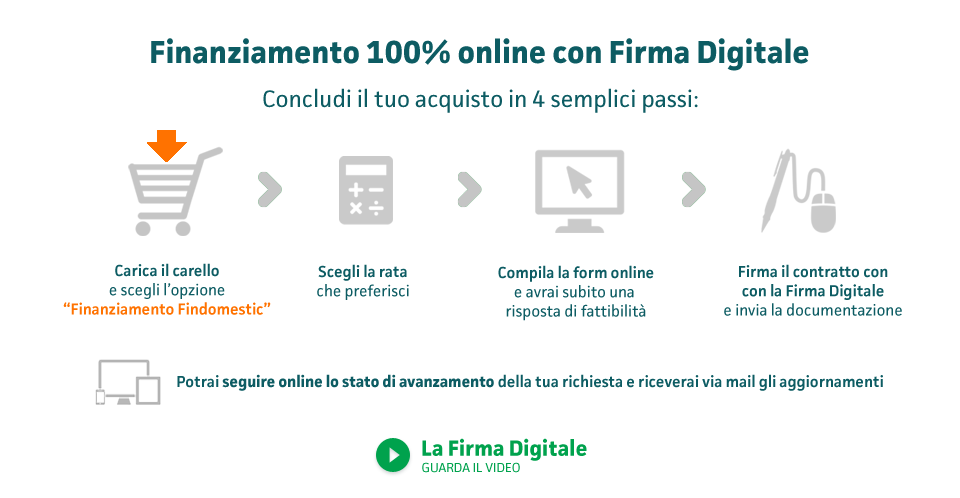 ---
Digital signature
Digital Signature is the secure, easy and free solution to sign up for your contracts online.
It is valid for all legal purposes such as the handwritten signature and allows you to speed up all the procedures related to obtaining the loan: once the contract is signed, the loan can be issued quickly.
Safe: Findomestic has set up a solid system for the protection of personal data of the applicant.
Easy: the procedure is easily performed following the instructions that appear on the screen and provides a double system of OTP (one-time password), a numeric code that the applicant receives on his mobile phone via text message and that must be entered when signing the contract .
Free: no cost, the service is completely free.

Requirements
residence in Italy
aged between 18 and 75 years
availability of a bank or post office account
Identification procedure for the purposes of the Anti-Money Laundering Regulation if requested
You can sign the contract with Digital Signature and send the documents directly online.
Right of withdrawal
Findomestic Banca informs you that, pursuant to Legislative Decree no. 206/2005, the customer, within 14 days from the date of conclusion of the contract, you have the right to withdraw from the same without penalty.
A written communication is required, specifying the identification details of the position shown in the acceptance message, to be sent by registered letter with return receipt to:
Findomestic Banca S.p.A.
Via Jacopo da Diacceto, 48
50123 Florence
In the case in which it intends to make use of the right of withdrawal from the purchase with financing, for one or more products ordered, it is necessary:
communicate to the partner agreement the intention to withdraw and the product that you intend to return, indicating the number of Findomestic practice, available in the communications received during and after the request for funding.
provide for the return of the product object of withdrawal.
It will be the responsibility of Findomestic to send the Customer the communication reporting the various conditions of the repayment plan (partial withdrawal of the order) or the cancellation of the practice (total withdrawal of the order).
Frequent questions
For more information on e-commerce you can also consult the dedicated section.


---
Advertising message for promotional purposes. For all economic and contractual conditions, refer to the Basic European Information on Consumer Credit (IEBCC) in the online path. Unless approved by Findomestic Banca S.p.A. for which "BISCOTTINI SRL" operates as a non-exclusive credit intermediary.

Find all the information and services offered at the following address: